The best way to fully relax in Gran Hotel Las Caldas by Blau Hotels
WELLNESS CENTRE in Asturias
From the medicinal mineral waters that spring from our spa to the latest in sports medicine, our spa at Las Caldas is a truly unique wellness complex. Two thermal spas, a clinic, and a broad range of treatments on offer make Las Caldas Villa Termal a spectacular setting for enjoying the ultimate in tranquillity and the best services we have to offer.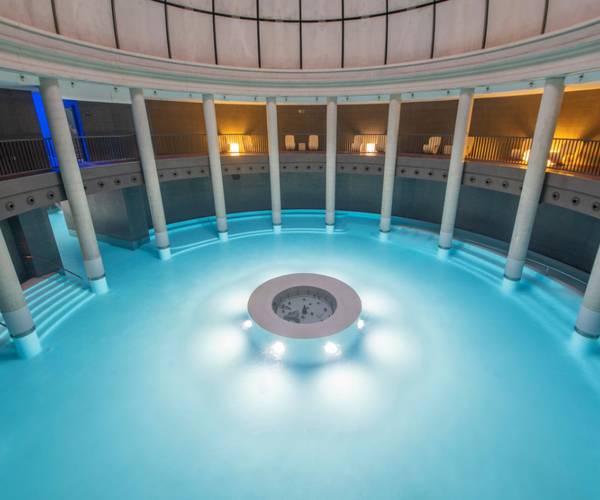 Aquaxana
Surrounded by 4000 m² of gardens, the facilities at Aquaxana are spread out across a unique space within the sanctuary of Las Caldas Villa Termal. It comprises an innovative ecothermal space where you'll experience the magic and power of water.

Within the Aquaxana thermal spa, you can embark on a real journey to relaxation and wellness thanks to its expansive swimming pools covering over 800 m² and divided into:
● The Dome, with an avant-garde design inspired by the Pantheon in Rome. A space where you can enjoy various hydrotherapy areas and disconnect from the stresses of everyday life.
● Active pool, the most dynamic area within Aquaxana, offering jets, waterfalls, and Jacuzzis.
● Ecothermal pool, located in the open air and heated all year round.

Its four floors: water, fire, earth, and wind, play host to distinctive rest and relaxation areas. Solariums, hot marbles, Turkish baths, contrast shower, sauna with panoramic views and cold-water pool... are all corners for you to enjoy the healing power of water, reconnect with yourself and restore your sense of wellbeing.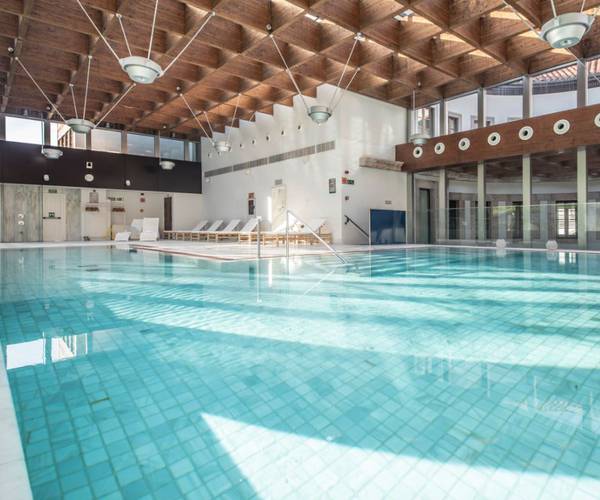 'El Manantial' Spa
The spring waters of El Manantial emerge through the cracks in the limestone depths of a beautiful, natural grotto. The medicinal mineral waters are used in the treatment baths and make up the core of the Royal Spa complex, making it an important, one-of-a-kind, thermal spa in Asturias.

The refurbishment of the former bath house has given rise to El Manantial Thermal Spa, which retains the essence and splendour of its former days since its opening in 1776. A place of great beauty that rises up through domed spaces, marble pillars, contrast pools, steam baths and dry baths, showers, relaxation pools with jets and other areas, offering an exceptional experience that will give you an energy boost and leave you feeling restored.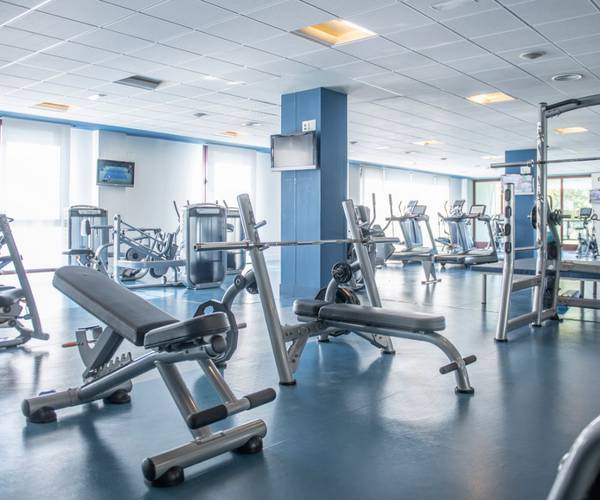 Fitness centre
You'll find that the fitness centre within our complex is, without a doubt, a complete joy for sport lovers. The centre is spread across 450 m² and is divided into four areas where you can practice cardiovascular and strengthening exercises, weight training, proprioception, and flexibility.

The centre is equipped with state-of-the-art machines so you can work out according to your needs and goals. We also have a multipurpose hall and a covered, rooftop terrace for you to enjoy a workout while taking in the best views.

If you wish, you can be supervised by professionals based at Las Caldas Clinic. They can offer you guidance and support at any time, whatever your fitness level.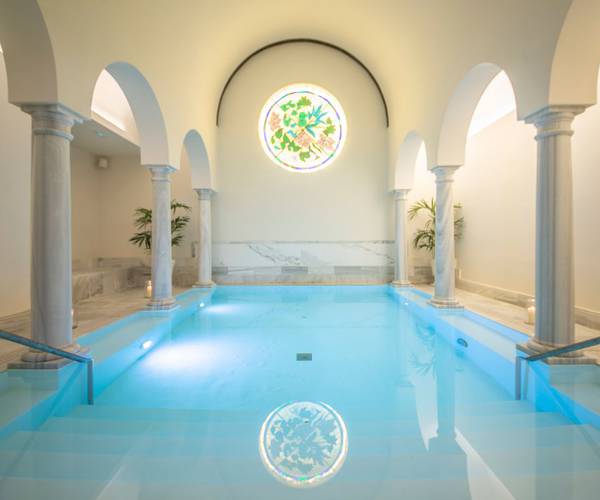 The Hall of Columns
The Hall of Columns is one of the most exclusive spaces in the whole Las Caldas complex. It is a former chapel that has now been transformed into a unique hydrotherapy circuit. As well as a jacuzzi, foot bath, contrast showers, and Turkish baths, the Hall of Columns is a surprising space that has been converted into a sanctuary for relaxation, complete with a flotation pool. Allow yourself 75 minutes of peace, so your body and mind can experience a complete break from the outside world.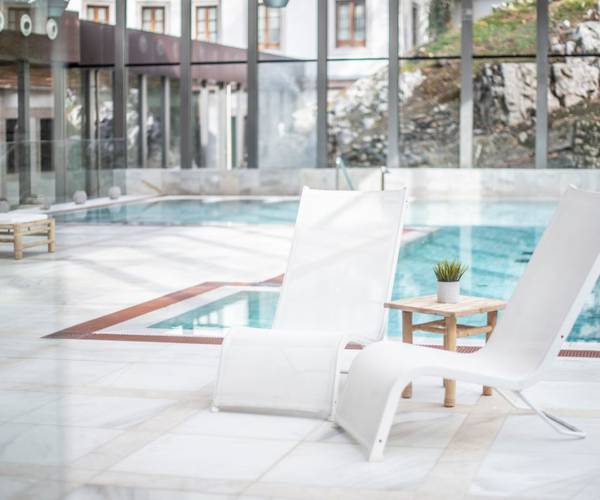 Las Caldas clinic
Las Caldas Clinic was founded with the aim of providing an exclusive, personalised service for our clients. It is a space that focuses on promoting health and wellness in a way that is completely adapted to the needs of each user. Assisted by the best team of professionals, we seek a perfect balance between physical and mental wellbeing.

Las Caldas Clinic focuses on four basic pillars:
● Healthy cuisine
● Physical exercise
● Natural therapies
● Highly specialised services

In addition, it is made up of the following:
● Sports medicine unit. A place where you can find specialist services for sportspeople provided by professionals from the fields of medicine, physiotherapy, and sports therapy. In this space, performance and stress tests, postural assessments, and sporting aptitude tests are just some of the services on offer.
● Physiotherapy Unit
● Nutrition Unit
● Traditional Chinese Medicine Unit.
● Detox programmes. Personalised programmes based on the client's goals.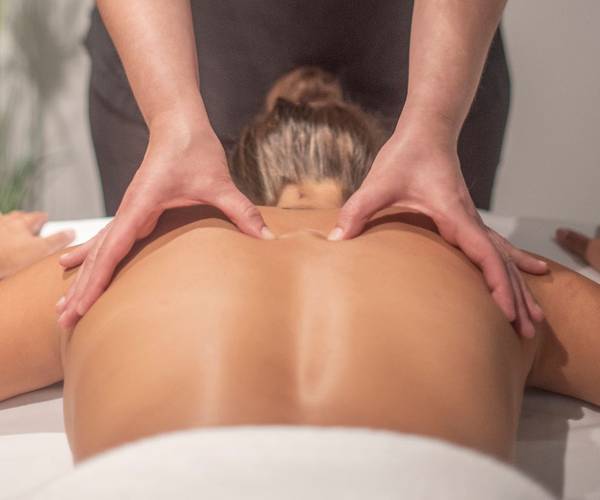 Wellness and beauty
25 cabins dedicated to bespoke treatments, whether solo or as a couple. In the Wellness & Beauty area at Las Caldas Villa Termal, you'll find a wide range of treatments to choose from, in a calm, peaceful space, leaving your wellness in good hands.

From relaxation massages using essential oils to amazing, unique experiences such as the "Beauty Secret" or "Cava and Magnolias". What's more, we offer Wellness Programmes, where you can choose from either standard or bespoke options, prepared for you to achieve your desired goals.
● Anti-stress Programme
● Beauty Programme
● Back Care Programme
● Reshaping Programme